Cuts to Local Schools, CNJ article 10th November 2016
Camden NUT on the March Summer 2016
Camden NUT members speak about Education issues with
Local MPs Kier Starmer and Tulip Siddiq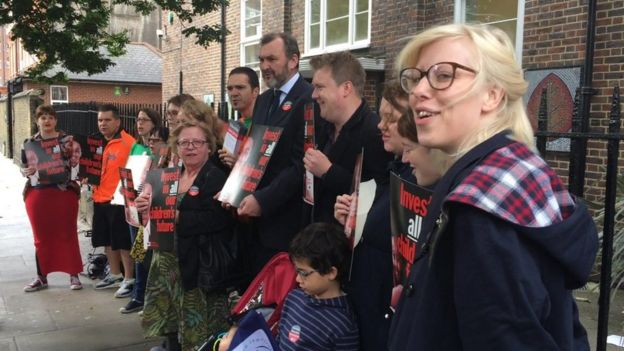 Camden NUT Members picketing outside Richard Cobden primary school, with NUT General secretary Kevin Courtney
Una Doyle, Camden NUT speaks to the press
Whistleblower warns of mass exodus as cost of living forces teachers out
                                                              Striking teachers marching to Parliament in July over funding, pay and conditions
Published: 4 August, 2016
By TOM FOOT and ELLA JESSEL
A WHISTLEBLOWER has warned of an unprecedented exodus of Camden teachers this summer. 
The secondary school teacher said workload pressures, coupled with the high cost of living in north London, is forcing staff to leave in their droves.
The New Journal has learned that in some schools one in four staff teachers has quit this year with established ­figureheads being replacing by low-paid "newly qualified" teachers.
"This is a large number and it needs to be looked at," said the senior teacher, who did not want to be named. The lack of continuity is not good for the children. It is depressing to work in this environment. 
Mr Baisley added: "It's troubling that inner-city schools have the highest need of experienced staff but are losing the most."
A parent, with two children at different Camden secondary schools, said: "A number of teachers are leaving because they can't afford to live here and they are broken by the government reforms. A lot of them are the young ones. To the inner-city schools some are commuting in from hours away.
The kids themselves are talking to each other about it because their teachers are saying, 'I have to move to another school'."
She added: "These children are the future of our country. Local authorities need to be imaginative about how they maintain high standards of education."
Schools chief Cllr Angela Mason said: "It's clear government cuts to school budgets are beginning to bite and the housing crisis in London is making it increasingly hard for schools to retain staff, due to the high cost of living.
"We're committed to assisting schools to retain staff and attract the brightest and best new teachers through offering secondments to schools around the borough, providing development opportunities and holding a recruitment fair for newly qualified teachers in November."
Senior teachers face axe as cuts bite
SENIOR teachers at Regent High School have been made redundant because of "increasing financial pressures", according to a letter sent out to parents from the outgoing headteacher. 
Five "directors of tutorial" will not return to their jobs in September following a staffing restructure at the Chalton Street secondary school. The staff members teach a number of subjects, from geography to maths, science and PE, but will be replaced by existing non-teaching staff taking up new "tutorial community leader" roles.
In June, 84 per cent of NUT members at Regent High voted in support of strike action over the job cuts but the dispute was later resolved without industrial action.
In a letter sent to parents at the end of summer term, headteacher Rosemary Leeke, who is retiring this summer, said the school had been forced to make some "extremely difficult decisions".
A Regent High spokeswoman said: "In common with many schools across the country, Regent High School has faced increasing financial pressures in recent years. This means that governors have had to make a number of staffing changes in order to balance the budget."